Spirea nip. Halward's Silver
White flowers in corymbs containing 8 to 10 flowers. Irregular flowering and fabulous summer.
Description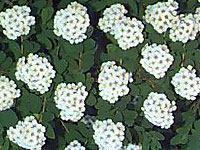 Latin name
Spiraea Nipponica Halward's Silver C.O.P.F.
French name
Spirée Halward's Silver
English name
Halward's Silver Spirea
Carriage
Dwarf and compact shrub, of irregular shape.
Foliage
Deciduous foliage, dark green.
Flowering
White flowers in corymbs comprising from 8 to 10 flowers. Fabulous flowering.
Fruit
Fruits without interests.
Growth
Slow growth.
Use
Very attractive for its flowering, one uses it in associations, in groups, isolated in rubbles or for low hedges.
Height
0.9 meters
Width
0.9 meters
Exposure
Sun, semi-shade.
Zone
4
Reviews
There are yet no reviews for this product.