Who are we ?
About us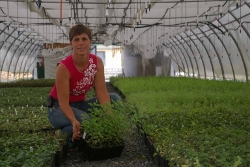 Jardiclub.ca is a division of Pépinière Gaucher.
Jardiclub.ca was created to meet the increasingly growing demand share by retail customer.
Since its beginning in 1997, the seedlings from the nursery were entirely for wholesalers, landscapers, cities, garden center, etc.. ... This new online store may now respond to new
consumers by offering its seedlings to all, regardless of quantity ordered.
Thanks to this service, visitors to this site will find information on the varieties available and make their choices from various categories.

In addition we offer a wide range of horticultural products that will help you realize your work in the garden.
You will find small garden tools, compost, fertilizer, hoses, pruning shears and more.


This service is only available online because our facilities do not allow us to receive customers at the nursery.
Thank you for your understanding.