Hydrangea pan. Pink Diamond
Large shrub with beautiful white panniculus in July and August, which turn pink later.
Description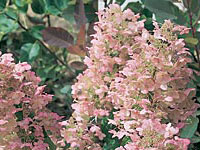 Latin name
Hydrangea Paniculata Pink Diamond
French name
Hydrangée Paniculée Pink Diamond
English name
Pink Diamond Hydrangea
Carriage
Rounded form.
Foliage
Pointed, oval leaves,of a beautiful green.
Flowering
Shrub with large white panicles in July August, which turn to pink thereafter.
Growth
Slow growth.
Use
To be used in association or isolated.
Height
2 meters
Width
1.5 meters
Exposure
Sun, semi-shade.
Zone
4
Units in box: 2949121
Reviews
There are yet no reviews for this product.