Spirea latifolia
Spirea native Quebec. Flowering white or slightly pink. Much used in revegetation.
Description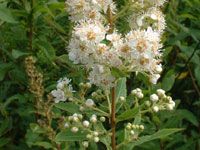 Latin name
Spiraea Latifolia
French name
Spirea à larges feuilles, Thé du Canada
English name
Large-leaved Meadow-Sweet
Carriage
Diffuse carriage, bushy.
Foliage
Green foliage on top and blue gray blue underneath.
Flowering
Flowers in upright panicles, at the beginning of summer. White or slightly pinkish.
Fruit
Fruits without interest.
Growth
Average growth.
Use
Indigenous plant which adapts to the difficult conditions. It is used in associations or for naturalization.
Height
1.5 meters
Width
1.5 meters
Exposure
Sun
Zone
2
Reviews
There are yet no reviews for this product.