Salix Hakuro Nishiki
Light green foliage with pink young shoots are stained white.
Description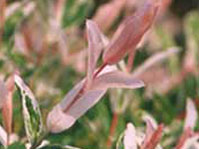 Latin name
Salix Integra Hakuro Nishiki
French name
Saule Maculé, Saule hakuro nishiki
English name
Hakuro Nishiki Willow
Carriage
This splendid shrub decorates the gardens by its contrasting foliage. To be used isolated or in association.
Foliage
Clear green foliage whose young growths are pink marked with white.
Flowering
Start of spring.
Growth
Fast growth.
Use
Plant interesting for the colouring of its foliage, to be used isolated but also in association.
Height
1.5 meters
Width
1 meter
Exposure
Sun, semi-shade.
Zone
4
Reviews
There are yet no reviews for this product.