Prunus X Cistena
Plant used for its red foliage and contrasting his pale pink flowers in May.
Description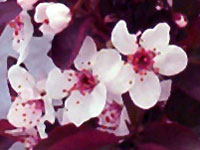 Latin name
Prunus X Cistena
French name
Prunier pourpre des sables
English name
Purple-leaf Sand Cherry, Dwarf Crimson Cherry.
Carriage
Large shrub with reddish boughs, rounded carriage.
Foliage
Deciduous leaves dark purple all summer. Dense foliage.
Flowering
Pale pink flowers, early in May, before the leaves.
Fruit
Fruits in the form of small dark violet cherries.
Growth
Average growth.
Use
Plant used for its contrasting foliage in the solid masses and even isolated.
Height
1.8 meters
Width
1.5 meters
Exposure
Sun
Zone
3
Reviews
There are yet no reviews for this product.