Philadelphus Coronarius Aurius
Shrub with bright yellow foliage taking a yellowish-green tint thereafter. Slightly fragrant leaves are deciduous.
Description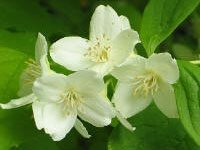 Latin Name

Philadelphus coronarius Aureus
Common Name

English Name

Golden Mock-Orange
Carriage
Shrub with an upright and compact. Numerous branches.
Foliage
Shrub foliage bright yellow hue taking a yellowish-green later. The slightly fragrant leaves are deciduous.
Flowering
The pleasantly fragrant white flowers in May-June are few.
Growth
Slow growth

Utilization
Plant used in combination, very interesting for its golden foliage and fragrance of its flowers.
Height
2 meters
Largeur
1 meter
Exposition
Sun, partial shade.
Zone
4b
Reviews
There are yet no reviews for this product.