Myrica Gale
This plant is native to Quebec interesting to smell it gives off. It can be used for revegetation or group. Flowering interesting shaped kitten dioecious.
Description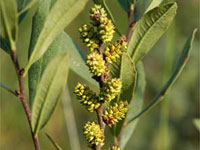 Latin name
Myrica Gale
French name
Myrte des Marais, Myrte bâtard, Bois-sent-bon
English name
Sweet Gale, Bog Gale
Carriage
Shrub with a bushy carriage, diffuse and irregular.
Foliage
Glossed dark green foliage. It releases a pleasant odor when it is ruffled.
Flowering
Upright flowers, in brownish catkins, early in spring.
Fruit
Many yellowish fruits, appearing in fall and persisting in winter.
Growth
Average growth.
Use
This plant, indigenous to Quebec, is interesting for the odor which it releases. It can be used for naturalization or in groups. Interesting flowering.
Height
1.2 meters
Width
2 meters
Exposure
Sun, semi-shade.
Zone
2
Reviews
There are yet no reviews for this product.