Euonymus alatus Compactus
Dark green foliage color Scarlet taking a fall. Fruits popular with birds. Compact form.
Description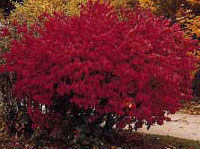 Latin name
Euonymus Alatus Compactus
French name
Fusain ailé nain
English name
Dwarf Winged Euonymus, Dwarf Burning Bush.
Carriage
Very compact shrub with a rounded carriage, with winged, spread out and short green boughs.
Foliage
Dark green foliage taking a scarlet red colour in fall.
Flowering
Yellowish flowers in Juin.
Fruit
Red orange fruits in September Octobre.
Growth
Slow growth.
Use
Ideal plant for the decoration of wintergardens, one can use it in solid mass or isolated.
Height
1.2 meters
Width
1.2 meters
Exposure
Sun, semi-shade.
Zone
3a
Reviews
There are yet no reviews for this product.