Sambucus canadensis Maxima
Interesting plant for its flowering and its edible fruit. Fruits used for making wine, jams and dyes. Fruits rich in vitamins and antioxidants.
Description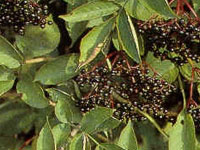 Latin name
Sambucus Canadensis Maxima
French name
Sureau du Canada Maxima
English name
Elderberry
Carriage
Shrub with a broad, vigorous carriage.
Foliage
Green foliage turning to yellow in fall. Large leaves made up of 5 to 11 leaflets.
Flowering
White flowers, in the shape of stars, joined together in very large inflorescences, at the beginning of the summer.
Fruit
Fruits in the shape of edible red berries, then black, but very few.
Growth
Very fast growth.
Use
Plant interesting for its flowering and its fruits. It can be used for hedges or large spaces.
Height
3 meters
Width
2 meters
Exposure
Sun, semi-shade, shade.
Zone
3
Reviews
There are yet no reviews for this product.