Potentille fruticosa Sundance
Shrub with golden yellow flowers, doubles from June to frost. Shrub with compact dwarf. Very vigorous.
Description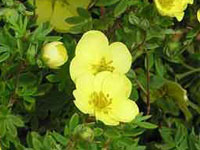 Latin name
Potentilla fruticosa Sundance
French name
Potentille Sundance
English name
Sundance Cinquefoil
Carriage
Dwarf shrub with a compact carriage. Very vigorous.
Foliage
Fine foliage, attractive.
Flowering
Shrub with golden yellow flowers, double, from June to the frosts.
Growth
Average growth.
Use
To be used in association or in the solid masses.
Height
0.9 meters
Width
0.9 meters
Exposure
Sun, semi-shade.
Zone
3
Reviews
There are yet no reviews for this product.